No else sounded like sax player Paul Desmond. His stint with Dave Brubeck's group was legendary! Smooth, silky and one of a kind, Paul's music will be around for many years. Willis Jackson is a relative unknown to me. He has a totally different approach to the sax. He's a more of an in your face kind of player who loves to have fun. This is evident when you listen to the featured tracks on this episode. Alex Dean is a Canadian music treasure who has been playing for many years. I thought I would start the show with four tracks from his excellent recording "At This Point". Enjoy!!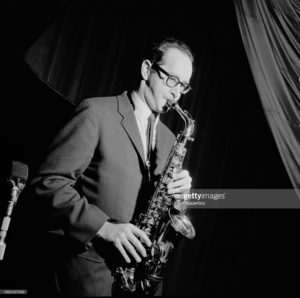 Artist | Album | Song | Time
01 alex dean at this point nice guys 8.15
02 alex dean at this point note to self 6.49
03 alex dean at this point pat and pat 5.56
04 alex dean at this point rick and ed 7.07
05 paul desmond desmond blue my funny valentine 3.52
06 paul desmond Complete Paul Desmond Quartet with Jim Hall i get a kick out of you 8.39
07 paul desmond live take five 7.12
08 paul desmond complete recordings the night has a thousand eyes 4.43
09 paul desmond complete recordings take ten 3.11
10 willis jackson grease 'n' gravy brother elijah 5.08
11 willis jackson thunderbird oh lady be good 5.29
12 willis jackson please mr. jackson 633 knock 5.22
13 willis jackson more gravy fiddlin' 5.14
14 willis jackson please mr. jackson memories of you 6.06
15 nanny assis double rainbow double rainbow 5.06
16 juan manuel liberation asian rainbow 5.18
17 bud shank pacific jazz studio sessions over the rainbow 4.23
18 john burr quartet in my own words rainbow over harlem 4.46
19 jim chappell the earthsea series vol1 rainbow land 3.03
20 david benoit to 87 if i could reach rainbows 4.52
---
Hosted on Acast. See acast.com/privacy for more information.